Perennial Herbs delivered to you.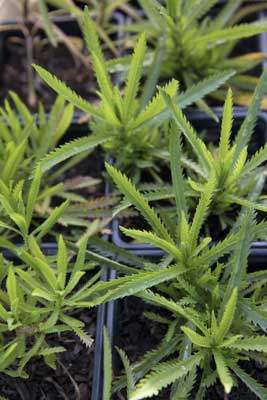 Grown peat and pesticide free and sold to you in our own POSIpots.
This is a list of what we have in stock now!
email through your order for delivery
Peat free and pesticide free.
Plant Name
Description
Pot size
Anise
Pimpinella anisum is a Southern European and Mediterranean herb with a flavour reminiscent of licorice
P9 - £3
Balm, Lemon
perennial herbaceous plant in the mint family Lamiaceae and native to south-central Europe
1 litre - £5
Bergamot
'Loddon Crown'
Showy reddish-maroon flower heads above spreading, upright mid-green aromatic foliage.
1 litre - £5
Borage
easy growing annual herb plant with vivid blue flowers and leaves and flowers that have the flavor and scent of cucumbers
P9 - £3
Borage - White
Same as blue but white flowers
P9 - £3
Catmint
dwarf catmint with slender spikes of lavender-blue summer flowers and aromatic, sage-green leaves. This clump-forming perennial will form open drifts of hazy blue flowers for weeks over the summer months
1 litre - £5
Catnip
Nepeta cataria

Herb famous for its effect on cats but also useful in the kitchen
1 litre - £5
Catnip/catmint
Nepeta
Cataria
best known for its ability to trigger episodes of euphoria in cats. but catnip is best as a nectar plant for bees.
1 litre - £5
Chamomile
(Chaemaemelum
nobile)
A valuable medicinal herb, the flowers can be dried and used to make chamomile tea or potpourri.
P9 - £3
Chamomile
(Matricaria
chamomilla)
German chamomile, Hungarian chamomile, wild chamomile, blue chamomile, scented mayweed, is an annual plant of the composite family Asteraceae
P9 - £3
Chervil Curled
Sometimes referred to as "gourmet's parsley", chervil is used to season poultry, seafood, and young vegetables
P9 - £3
Chives
- Common
Wonderful, mild onion flavor. These long, thin chives are excellent in many meals; great raw or cooked. Lavender flowers.
P9 - £3
Chives Polystar
RHS Plants for Pollinators plants. This plant will provide nectar and pollen for bees
P9 - £3
Clary Sage
- Salvia Sclarea
Large aromatic leaves and decorative lilac flower bracts, used in aromatherapy. Scent very therapeutic.
1 litre - £5
Comfrey
Great for bees and great for making your own liquid plant feed.
P9 - £3
Coriander
'Vietnamese'
Persicaria odorata is a vigorous, tropical herb for growing in full sun during the Summer and in a large tub inside in the Winter. Aromatic leaves have a strong, unique flavour. Ideal for stir-fry dishes.
1 litre - £5
Cotton
'Lavender'
A versatile little hedging shrub, its aromatic silvery foliage contrasts well with many other plants and the profusion of button shaped yellow flowers in summer adds to its appeal.
1 litre - £5
2 litre - £7
Cumin
Grow it in a conservatory or greenhouse, forget growing outside in the UK
P9 - £3
Curry
Dartington
Helichrysum italicum 'Dartington' has darker foliage and a more compact growth habit than ordinary Curry Plant.
1 litre - £5
Curry
Plant
(Common)
member of the daisy family (Asteraceae) and given its common name 'curry plant' because of the smell of its leaves. It grows wild on dry, rocky or sandy ground and likes the warmth!
1 litre - £5
Dill
Dill is an aromatic herb with delicate, feathery green leaves. Sometimes referred to as dill weed, dill is a member of the parsley family
P9 - £3
Dill Monarch
ideal for containers and pots. The attractive dark blue-green foliage is very dense. Plant height typically 70cm
P9 - £3
Fennel Common
very ornamental, knee-high herb and is equally at home in the flower border, the herb garden or the vegetable bed.
P9 - £3
Feverfew
A very pretty plant but also incredibly usefu, particularly if you suffer from migraines or aches and pains!

Feverfew can be eaten as the fresh leaf, made into a green leaf tea or dried for later use as a tea
P9 - £3
Garlic Chives
Allium tuberosum is a species of onion native to southwestern parts of the Chinese province of Shanxi
P9 - £3
Giant Hyssop -
Agastache
Mexicana
- Blue
must have addition to any perennial border delivering a stunning display of 60-80cm high lavender blue bottle brush scented flower spikes from early summer to late autumn
1 litre - £5
Giant Hyssop -
Agastache
Mexicana
- White
Agastache Giant Hyssop White is a great addition to the butterfly and bee garden, and it makes an excellent companion to other late blooming perennials
1 litre - £5
Grapefruit Mint
Mentha x piperata citrata 'Grapefruit' Grapefruit mint has a zesty citrus flavour and mid green slightly hairy leaves. It produces long spikes of incredibly attractive purple flowers in mid to late summer.
1 litre - £5
Hyssop - White
Hyssopus officinalis has white flowers that attract bees and butterflies and look their best when this small shrub is grown as a hedge. Can be clipped back in late March. Has a strong menthol scent. A tea made from the dried flowers with honey added is ideal for relieving coughs and chest troubles.
1 litre - £5
Hyssopus
officinalis
'Blue'
Plump spikes of bright blue flowers appear on this popular old bushy plant which doubles as both a minty herb and a lovely garden flower, and is especially loved by bees. If cut back hard each spring will make a superb specimen for many years.
1 litre - £5
Hyssopus
officinalis
'Pink'
Hyssopus officinalis has pink flowers that attract bees and butterflies and looks its best when this small shrub is grown as a hedge.
1 litre - £5
Lavender
'Devon
Compact
White'
A beautiful French lavender producing masses of white flowers over grey-green foliage.
1 litre - £5
2 litre - £7
Lavender
angustifolia
'Hidcote'
The most floriferous of the compact lavenders, with purple-blue flowers. Incredibly reliable and rich in pollen and nectar for much of the summer so bees and butterflies love it.
1 litre - £5
Lavender
angustifolia
'Devon'
A French Lavender form with lavender-blue flowers on a dense grey-green foliage
2 litre - £7
Lavender
angustifolia
'Rosea'
Beautiful pink flowering lavender from the Angustifolia species. Perfect to mix with purple and white varieties or to stand alone to give a traditional lavender shape with pink flowers.
1 litre - £5
Lavender
spica
'Kew Red'
Plump, cerise-crimson aromatic flowers are topped by lighter pink flags from April to September. Aromatic foliage.
1 litre - £5
Lavender Vera
heirloom English Lavender known for its sweetly fragrant oil, dark lavender-blue flower spikes, and compact growth habit
1 litre - £5
Lemon Grass
Widely used in oriental cooking for the swollen base of its edible stems
1 litre - £5
P9 - £3
Lemon Mint
Monarda
Citriodora
Although its leaves are edible, it's sometimes referred to as 'lemon mint' and it's in the mint family Lamiaceae, Monarda citrodora is not a true mint
1 litre - £5
Lovage
Also known as sea parsley, the leaves and stem of the lovage plant add an intense celery-like flavour to soups, stews and stocks or pork and poultry dishes. Grow tall - 6ft
1 litre - £5
P9 - £3
Lippia
citriodora
(Lemon
Verbena)
Lippia Citriodora has the most lemony scent of all plants, it almost smells like lemon sherbet ( if only there was a scratch and sniff feature on your screen!).
1 litre - £5
Mace
(Achillea
ageratum)
Mace, English – Achillea ageratum is a very pretty, aromatic herb for garden or patio pot. Fresh green foliage with cream flowers. Use for interesting flavour in soups, rice and potato salads.
1 litre - £5
Marjoram
'Golden'
pretty, lower growing version of standard marjoram. A clump-forming growth habit with bright yellow leaves that will add contrast in any herb border or rock garden. Clusters of small pink or white flowers from early to mid-Summer.
1 litre - £5
Marjoram Pot
A lovely low-growing plant, Pot marjoram or Origanum onites, is a semi evergreen herb which has a wonderful fragrance
1 litre - £5
Marjoram Sweet
Leaves and flowering sprigs are popular in Greek and Italian meat dishes, soups, stuffings, tomato sauces and pasta, where they are best used towards the end of the cooking process.
1 litre - £5
Mint 'Moroccan'
If you love making mint tea, then this is one of the best varieties to choose. You can also use it however to flavour salads, potatoes, peas, lamb - or make mojitos! Fast and easy to grow, it will soon spread to form a good-sized clump.
1 litre - £5
Mint 'Spear'
This is the basic culinary mint used for mint sauce, marinades and seasoning meat and fish
1 litre - £5
Mint
Black
Peppermint
A delightful mint with a beautiful purply / black leaf, especially good for making tea as it is said to be stronger than the white variety.
1 litre - £5
Myrtle
n mid to late summer, this bushy, evergreen shrub is festooned with fragrant, white, fluffy flowers, followed by round, purple-black berries
1 litre - £5
Oregano Kirigami
low-growing, herbaceous perennial with small, rounded, light green, aromatic leaves adorned with purple-green highlights. Blooming all summer long, it produces whorls of pendulous, dusty pink, hop-like bracts with tiny, rose-pink flowers peeking out of them
1 litre - £5
Oregano - wild
marjoram
Origanum vulgare. It's frequently known as oregano in Europe. It's one of our staple herbs,
1 litre - £5
Oregano - Greek
Cream flowers in late summer over aromatic leaves which are very useful in the kitchen.
A pollinator friendly plant including bees.
1 litre - £5
Origanum
vulgare
'Crinkle
Leaf'
Clusters of tiny tubular pink flowers. Attractive, oval, crinkled, golden aromatic leaves, which form a mat in winter. The golden leaves are prone to sun scorch. Culinary; good with vegetables.
1 litre - £5
Parsley Italian
Giant flat

It is the best parsley and a perennial to boot. Easy to grow on.
P9 - £3
Pelargonium
Scented
'Prince of
Orange'
One of my favourite, scented-leaved varieties which I harvest for flavouring jams, cordials and teas.
1 litre - £5
Pennyroyal
Mentha pulegium, is a traditional cottage garden plant in the mint family. Typically found in marshy soils, ditches and around the edges of ponds, it's a moisture-loving plant, and does best when grown in damp conditions.
1 litre - £5
Purslane Golden
highly esteemed in ancient Egypt and cultivated in Europe as far back as the Middle Ages, but fell victim to alternatives like spinach
P9 - £3
Rosemary 'arp'
Rosmarinus officinalis 'Arp' originates from Arp, Texas. Renowned for its winter hardiness. The abundant foliage has a hint of citrus hidden within the classic Rosemary scent. The flowers are light blue.
2 litre - £7
Rosemary 'common'
Good solid variety, ideal for hedging and culinary uses.
Rosemary
officinalis
'Miss
Jessops
Upright'
Vigorous, upright rosemary produces spikes of purple-blue flowers, from mid-spring to early summer, so it's ideal for adding colour and vertical interest to the sunny border or herb garden
1 litre - £5
2 Litre - £7
Rosemary
prostrata
'Boule'
Woody, perennial herb with fragrant evergreen needle-like leaves and purple flowers from April - June.
1 litre - £5
Rue
most attractive plant that has blue-green foliage consisting of smooth fine leaves held in rather flat sprays
P9 - £3
Sage (seed Grow)
If you want a good basic garden sage this is the one.. 4 plants in the pot as well.
1 litre - £5
Sage Golden
Salvia officinalis icterina rarely flowers but this variety is grown for its green and gold dappled foliage which adds a patch of sunlight to the herb garden.
1 litre - £5
Sage Painted
Salvia horminum is an impressive annual sage grown for its brightly coloured pink or purple bracts. An infusion of the leaves may also be used as an antiseptic gargle.
1 litre - £5
Sage Purple
Salvia officinalis purpurascens is a popular foliage herb. It has particularly attractive dusky purple-red leaves.
1 litre - £5
Sage Tricolor
small leaves are green with pink, white and purple variegation purple-green. They have a mild sage flavour, so are suitable for use in cooking.
1 litre - £5
Stevia rebaudiana
ugar Plant or Sweet Herb of Paraguay is the famous sugar plant is ideal for those watching their sugar intake
1 litre - £5
Summer Savory
herb with the taste of thyme but much more prolific. Use as a companion plant against black fly on broad beans.
1 litre - £5
Tarragon 'French'
The best herb to eat with fish and chicken, and as a flavour in vinegar for the best ever salad dressing
1 litre - £5
Thyme
Broad
Leaf
Broad leaf thyme has a mounded habit, being neither upright or creeping. It has lovely shiny foliage and flowers that are extremely attractive to bees and butterflies.
1 litre - £5
Thyme 'Orange'
This thyme has leaves that smell like orange when bruised and blooms in summer with white to lilac pink flowers that produce a lot of nectar
1 litre - £5
Thyme English
Winter
hardy evergreen perennial and has small aromatic dark green leaves with clusters of small pale pink flowers. Thyme English Winter (Thymus vulgaris) can be picked all year round and is the classic herb used in 'bouquet garni'.
1 litre - £5
Thyme Purple
Creeping
hardy evergreen perennial and has small aromatic dark green leaves with clusters of small pale pink flowers
1 litre - £5
Thyme
serphyllum
'White'
Thymus serpyllum albus is a small leaved creeping Thyme with bright green foliage with pure white flowers.
1 litre - £5
Thyme
x citriodorus
'Lemon'
Lemon Thyme has small green leaves and pink flowers, it is suitable for planting in the rock garden, herb garden or the front of a border
1 litre - £5
Tree Spinach
Is this a herb? Is this a veg plant? Is the a ornamental?
P9 - £3
Welsh Onion
Despite its common name, this perennial onion is widely grown in its native China and Japan. Virtually evergreen, this versatile onion is great for giving a continuous supply of leaves and 'spring' onions through the year, plus white flowers in summer.
P9 - £3
Wild Bergamot
Monarda
Fistulosa
Wild Bergamot is a favorite of butterflies and bees. Its species name, fistulosa, refers to the tube-like structure of its blossoms.
1 litre - £5
Winter Savory
This low-growing, semi-evergreen herb has been used for both medicinal and culinary purposes for a couple of centuries. The leaves are very aromatic and are said to be able to help aid digestion and bee stings, but they also can be used to flavour meat dishes, marinades and stuffing.
1 litre - £5
Wormwood
Wormwood is an upright herb with fragrant grey foliage. The herb has many uses, not only helpful at repelling moths it also has medicinal properties.
1 litre - £5
Our Herb Plants
Our herbs are not forced! They are grown in the UK, undercover, then hardened off! We use peat free compost and hand tend all our plants, our aim is to get perfect plants to you with the minimum of environmental impact. We use cleaned recycled pots and really focus on natural pest control. We have a set aside messy area for wildlife close to our growing space, this counters a lot of pest problems.
sages also exotics like Vietnamese coriander and Lemongrass. All grown by Edibleculture. Perfect for our crate containers or planting straight in the ground. We are Urban growing specialists – if you have any questions about a herbs suitability please contact us.