Our innovative plastic free Shop

Open 9am to 5pm Monday to Saturday
10am to 4pm on Sundays and Bank Holidays
PLEASE NOTE – We are seasonal growers, we grow and sell mainly our own plants. We do not import out of season plants.
From Mid October until early March we do not re-stock compost. We have to balance sales levels and the condition of composts during cold (freezing) winter months. We remain open for tree sales/advice. This year we have sold 5 times our normal volume of compost with our new 'bag for life' scheme, please phone for availability.
We are on the grounds of the Abbey School on the A2.. the turning is just after a speed trap right by a pedestrian bridge.
We have free parking by the sports hall and note that our entrance now is via our rear gates
ME13 8RZ is the best sat Nav post code.
We do have a toilet for customer use but unfortunately no disabled. Elements of our shop are wheel chair accessible but the nursery element is rough underfoot.
You can bring dogs on to our site but they must be well behaved… the same for children.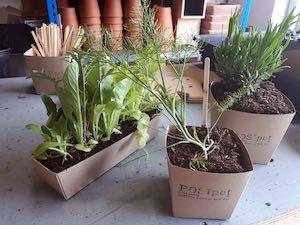 Come and visit our Fork Handles shop in Faversham!
We sell hardy, well grown, seasonal, interesting plants. Grown peat/pesticide free and sold plastic free.
What we offer above a garden centre or DIY store is invaluable.. free knowledge.
The knowledge to tell you what not to buy and the knowledge to get the best from what you do buy.
Shop, display garden and teaching space – Based just off the A2 in Faversham we have original
and developing the stock of trees, herbs, veg plants and all the bits you need for your garden. From the best peat free composts to coppice stakes and industry standard ties.
For the first time we will remain open for the winter months for bareroot fruit tree sales contact us. We are seasonal growers and do not import out of season plants from abroad, please do not expect out of season plants (chilli, tomato plants etc.) in December!

Wholesale – For designers, professional horticulturist and community projects – We have a strong relationship with professionals… being regular RHS exhibitors ourselves we like working in partnership to offer value linked to a personal touch. We hold regular trade days and offer training in pruning, propagation and hard installation.
Shows and Markets – We also attend a great many shows and farmers markets. We had our first chilli festival.